When working at home, it is important that people have a place at home where they can work comfortably and quietly without any interruption.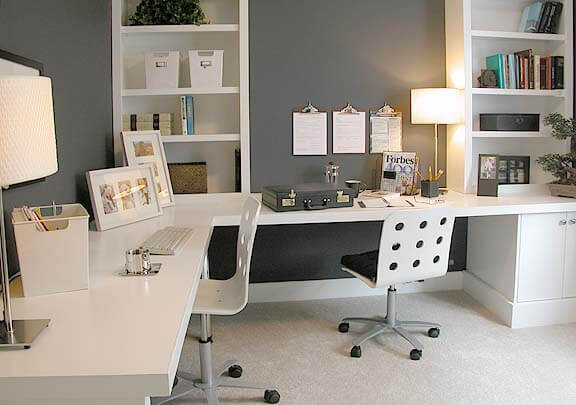 Conveniently separated from the main living areas of your home, basements can be designed and transformed into basement offices to accommodate your working space needed. The person working in the basement office should make up a list of things they must have in their office and things they would like to have in their office.
Primary requirements for an office are:
Light
Heat
Sufficient electrical wiring to handle computers, fax machines, and printers and
Communications service for both a phone and a computer.
Adding stud walls provides the space to run new wiring. Because existing wiring is typically exposed in the overhead joints, it's easy to extend an electrical circuit or add a telephone jack. But adding a separate circuit to isolate your computer and other office equipment from power to the rest of your home is a smart idea. Drawing too much power from a single circuit can trip circuit breakers and cause the loss of valuable information.
Allow enough electrical outlets so you can move equipment around or change the design of your office scheme. Proper lighting is important for anyone spending long hours working in a basement office environment.
Include two types of lighting:
Ambient Light is the soft, diffuse light that illuminates the whole room. It comes from sources such as ceiling fixtures and daylight through windows. You can even make window-less space more habitable by using what's called full-spectrum light bulbs. These have a light spectrum similar to natural sunlight.
Task lighting – is flexible and can be directed where you need it. A desk lamp is a good example. Install a portable dehumidifier.
High humidity can slow the drying time of documents printed on inkjet printers, causing them to smear. It also can ruin books and other documents.
Basement floors are usually cool in all seasons, especially winter, so consider an insulated floor to prevent your feet and legs from becoming uncomfortably chilled while you're working in your basement office.
If is enough space available, the basement should include a bathroom so it is not necessary to constantly go back into the house. It may seem like a luxury, but I would suggest having a mini kitchen that includes a small microwave, mini fridge and coffee maker. This allows the person who is working in the office to be comfortable in their environment and not have a constant excuse to go back to the main part of the house.
Ready to transform your unfinished basement into an elegant office space, where you can work uninterrupted without leaving your home? Give us a call at 416-829-5428 or Request a Free Estimate.